Welding technology
HOME > Microfabrication technologies > Welding technology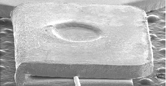 Abundant types of joining techniques to choose from according to the type of material used.
Mitsuwa Electric endeavors to develop microfabrication products produced by various types of joining techniques. Here are some of typical joining techniques.
Laser welding
At Mitsuwa, we use welding techniques incorporating a laser when manufacturing products including the electrodes for HID lamps. The laser welding minimizes damage, which can otherwise occur during the welding process, on tungsten, molybdenum, and other materials with a high fusion point.
| | | |
| --- | --- | --- |
| Tungsten to molybdenum joint | Cross section of the tungsten to molybdenum joint | Example of joint between metals of dissimilar kinds |
* See processing example (1) for other laser welding operations.
Resistance welding
Resistance welding is a process that uses the heat generated when current is passed through the metals to be joined. It is applied to various types of products by changing the current, voltage, and pressure according to the material used.
| | | |
| --- | --- | --- |
| Typical resistance welding of metals | Typical resistance welding of metals | Typical resistance welding of metals |
Brazing
Brazing is a joining process using a brazing filler metal, such as silver brazing filler metal and nickel brazing filler metal. It is often used to make a brazed joint between materials having excessively different thicknesses from each other and between a metal and nonmetal.
At Mitsuwa, we very often make a brazed joint of micro materials and thus perform laser brazing, instead of using a gas torch.
Brazing metal + nonmetal (patent applied for)
| | |
| --- | --- |
| f0.35-mm W pin + carbon | Cross-sectional view |
Brazing metal + metal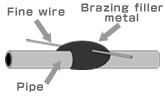 Φ0.5mm SUS304 + Φ20μm W wire

[Head Office / Main Plant]
6-7-9 Minamishinagawa, Shinagawa-ku, Tokyo 140-0004
[Mobara Plant]
646 Mobara, Mobara-shi, Chiba 297-0026