Microfabrication technologies
HOME > Microfabrication technologies > Heat treatment technology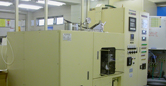 High temperature heat treatment adds extra value.
Mitsuwa Electric uses a hydrogen treatment furnace and vacuum treatment furnace to perform heat treatment of metals and parts of various kinds at high temperature. It is capable of high temperature heat treatment to suit the specific need, such as degassing of metals, bright annealing, and removal of processing strain.
Continuous and batch heat treatment of coils
Continuous heat treatment (running annealing)
In the coiling process, the tungsten coil is continuously wound around a core wire made of molybdenum or other material and taken up by a bobbin.
It is further automatically taken up from the bobbin to a spool. During this process, the coil is subjected to a high temperature hydrogen furnace for annealing, so that strain during coiling is removed. Some product may extend over several tens of kilometers and takes several tens of hours for heat treatment. Long wires can also be treated, in addition to the coil.
Batch heat treatment (boat annealing)
The tungsten coil cut to a predetermined length is subjected to batch heat treatment (boat annealing), through which its shape is stabilized and strain is removed to achieve high quality. Parts of various kinds are also heat-treated, in addition to the tungsten coil.
| | | |
| --- | --- | --- |
| Flushing unit | Continuous treatment furnace | Surface of electrode after annealing |
Meeting the need for treatment just right for the product shape
The heat treatment technologies are used for various purposes, including removal of processing strain, bright annealing, and degassing of materials. Hydrogen treatment involves a maximum temperature of as high as 1,650°C and vacuum treatment 2,200°C. A turbomolecular pump is used in the vacuum treatment furnace. We propose the heat treatment method and conditions optimum for the product and materials being handled. Treatment methods include continuous treatment of linear products (hydrogen furnace only), batch treatment with workpieces placed in boats (containers), and flushing treatment, in which the coil is mounted on a core for energization (coil length 1,500 mm max.).

[Head Office / Main Plant]
6-7-9 Minamishinagawa, Shinagawa-ku, Tokyo 140-0004
[Mobara Plant]
646 Mobara, Mobara-shi, Chiba 297-0026