Cutting technology
HOME > Microfabrication technologies > Cutting technology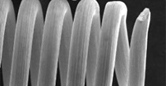 Choosing the best cutting method for the specific material and shape
Mitsuwa Electric is capable of various types of cutting methods, including cutting by means of machines and that making use of characteristics of the material concerned.
High-speed cutting method
Mitsuwa's own fully automated coil cutter can cut coils and bar stocks at high speeds and with high accuracy.

The cutter can cut 20 coils for 1 second (the overall length of the coil ranges from 3 to 15 mm). Mainly used for filaments, the cutter may also be applied to cutting ultra-fine wires.
Various types of cutting methods
Cutting method using grinding wheels or the like. Capable of achieving high dimensional accuracy, optimum for precision parts.
It is also applicable to ultra-fine products, such as coils used in discharge electrodes.
We accept orders for production in small to large quantities.
Other cutting examples
W wire Φ0.01mm, using Φ0.05mm Mo core wires

Enlarged view of cut surface

Enlarged view of cut surface
* After the core wire has been dissolved
Varying the coil pitch allows the cut surface shape to be controlled.

[Head Office / Main Plant]
6-7-9 Minamishinagawa, Shinagawa-ku, Tokyo 140-0004
[Mobara Plant]
646 Mobara, Mobara-shi, Chiba 297-0026