Access map
HOME > Company profile > Access map
This is the access map to Mitsuwa Electric that offers microfabrication technologies including tungsten processing and tungsten electrode manufacturing. Please follow this map when you visit us.
Head Office and Main Plant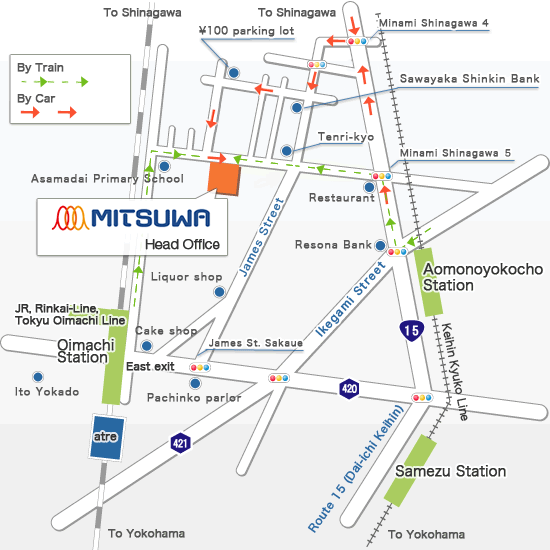 10 minutes walk from east exit, Oimachi Station, JR and other lines
8 minutes walk from Aomonoyokocho Station, Keihin Kyuko Line
6-7-9 Minamishinagawa, Shinagawa-ku, Tokyo 140-0004
Tel: 03-3471-3682 Fax: 03-3471-9596
Business hours: 8:30 - 17:00 (weekdays)
[By train] (Arrows in green dotted line)
*From Oimachi Station
Take the East exit, walk along the railway for about 450 m. Walk down steps, turn right at Asamadai Primary School and walk around 200 m to find us on your right.
*From Aomonoyokocho Station
Walk to the left from the station on Ikegami Street. Cross the Daiichi Keihin Route by overhead pedestrian bridge, walk to the right, walk about 100 m and turn left at "Minamishinagawa 5-chome" intersection to find us.
[By car] (Red arrow)
*From Shinagawa
Take the Route 15 (Dai-ichi Keihin), turn right at "Minamishinagawa 4-chome" intersection after an intersection with Yamate Street, drive around 300 m, turn right at the T-crossing where Sawayaka Shinkin Bank stands on the right, turn left at the 3rd crossing (at \100 parking lot) and turn left again at the end of the road to find us.
*From Kawasaki
Drive north on the Daiichi Keihin Route and turn left at "Minamishinagawa 4" intersection. The rest is the same as above.
Mobara Plant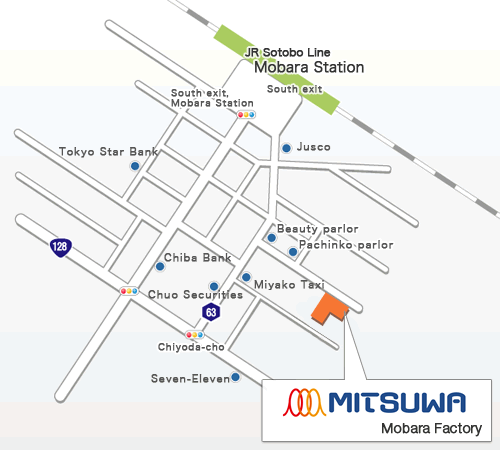 | | |
| --- | --- |
| | 5 minutes walk from the south exit of "Mobara" station, JR Sotobo Line |
646 Mobara, Mobara-shi, Chiba 297-0026
Tel: 0475-23-5534 Fax: 0475-24-9626
Business hours: 8:30 - 17:00 (weekdays)
【By Walk From Station】
Take the South exit, walk to the left for about 250m on prefectural road no. 63. Turn left and you will find "Mobara Kaikan"on your left. Then walk around 100m to find us on your right.

[Head Office / Main Plant]
6-7-9 Minamishinagawa, Shinagawa-ku, Tokyo 140-0004
[Mobara Plant]
646 Mobara, Mobara-shi, Chiba 297-0026