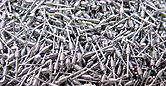 Available are electrodes of various types, in addition to those for illumination.
Mitsuwa Electric boasts of its wide variety of tungsten processing techniques. Among them, we are highly reputed for the manufacture of electrodes that makes full use of its microfabrication technologies.
Electrodes for ceramic metal halide lamps
The ceramic metal halide lamp, a type of HID lamps, is a discharge lamp that uses translucent ceramics as its arc tube to achieve a high luminance level. Applying our tungsten processing techniques, which have been accumulated over long years, we make micro components and perform micro welding using a laser. Available materials are tungsten, molybdenum, and much more to suit your specific need. Feel free to contact us.
| | | |
| --- | --- | --- |
| Electrodes of various sizes | Enlarged view of electrode main body (SEM photograph) | |
Electrodes for ultra-high performance lamps (UHP)
This is an extremely precision electrode for the ultra-high performance lamp (UHP), built into the arc tube of the projector lamp. At Mitsuwa, high purity tungsten is subjected to close coiling, recoiling, and mandrel-less (winding requiring no cores) processing before a core rod is automatically press-fitted in place. We meet various requirements, including leading end melting processing and high temperature vacuum treatment.
| | | |
| --- | --- | --- |
| Electrodes for ultra-high performance lamps (UHP) | Enlarged view of electrode main body | |
Special purpose electrodes
In addition to above, we also process electrodes used for purposes other than illumination, including those used in ultraviolet lamps and deuterium lamps, and join metals of dissimilar kinds. Feel free to contact us for needs of electrodes. Our expert staff will make an optimum proposal for your specific needs.

[Head Office / Main Plant]
6-7-9 Minamishinagawa, Shinagawa-ku, Tokyo 140-0004
[Mobara Plant]
646 Mobara, Mobara-shi, Chiba 297-0026